Staff
Gary Hamill, Executive Director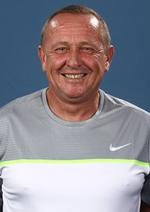 In his 26 years at the helm of Wingate University Men's Soccer, Gary Hamill has led the program to an overall record of 320-155-27, going 134-54-12 in the SAC. He has been named SAC Coach of the Year Eight times in his career, winning most recently in 2017. Coach Hamill has eight conference titles, five NCAA sweet 16 appearance, one Elite 8 appearence, and one National Championship in 2016. Coach Hamill has been selected Regional coach of the year three times in 1993, 2012 and 2016 and was National Coach of the Year in 1993 and 2016. His winning percentage ranks him in the top ten active coaches in NCAA Div. II, while he is ranked 24th all-time in wins among NCAA Division II coaches and 13th among active D2 coaches. Hamill's commitment to team development is only surpassed by his player development. His players' honors include five Conference Players of the Year, four Conference Freshman of the Year, twelve All-Americans, 44 All-Region and 97 All-Conference selections. Hamill was also inducted in to the Wingate Hall of Fame in 2017, while seeing 3 of the Men's soccer programs alumni also being Wingate Hall of Fame members.

Hamill is also actively involved in Youth Soccer Development, serving as a board member for Charlotte Soccer Academy. He has been involved in youth soccer associations in both North and South Carolina serving as an instructor and an ODP staff coach. Hamill holds a UEFA "A" License and an NSCAA Premier Diploma.

We believe the quality of the staff determines the success of the camp. WISA staff is comprised of top, fully qualified coaches, the majority of whom hold a state or national certificate and have played the game at a high level. We also recruit the very best from overseas and they bring their expertise and new ideas to our camps. Your camper's group head coach is a college coach or a former collegiate player who is licensed. Our player to staff ratio is 8:1, which means that each player will receive the time and attention they deserve, to develop as a player throughout the week.
Harry Crosbee,